The Mike & Mike Show
(Weekdays 6AM – 10AM)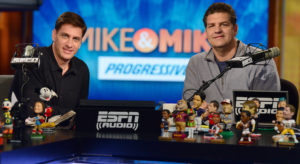 Featuring co-hosts Mike Greenberg and former NFL player Mike Golic, a regular on ESPN2's NFL Live, Mike & Mike is ESPN's sports talk morning show. The show combines a mix of live guest interviews, analysis, breaking sports news coverage and opinion, all presented in a thoroughly entertaining format. Every day, Mike & Mike has the best national and international guests to tell you all about what is happening NOW in sports. Last night's hero (and sometimes even the goat), the coaches and GMs drop by or phone in to tell everyone what they were thinking and how it happened. Listen every morning and you'll know everything that is going on in the sports world!
The Dan Le Batard Show
(Weekdays 10AM – 1PM)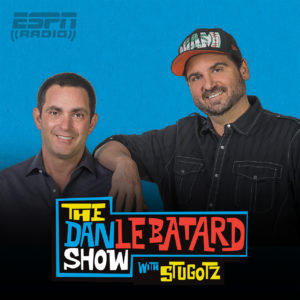 In 2013, Le Batard brought his local radio show – heard on The Ticket in Miami since 2004 – to ESPN Radio's national audience. Le Batard joined ESPN The Magazine's staff as a contributor in February 1998. Le Batard continues as a columnist at the Miami Herald, where he has been since 1990. His work also appears regularly on ESPN.com. Jon "Stugotz" Weiner has served as co-host of The Dan Le Batard Show since 2004. A sports broadcasting veteran of more than 15 years, Stugotz provides his own passionate takes on the sports news of the day, often the opposite of Le Batard's opinion, and is known for his self-deprecating humor. A great addition to the middle of the day, find out something you didn't know OR didn't think… when you listen to The Dan Le Batard Show.
Russillo Show
(Weekdays 1PM – 4PM)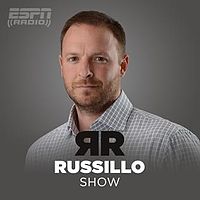 With the benefit of comfort and the advantage of familiarity, Russillo & Kanell takes the audience in a new direction. Together, Ryen Russillo and Danny Kanell are like the old stereotypes you think you know. Until you learn more. It's about the unexpected. Two longtime friends, they discuss and debate the most important and talked-about events in sports. Ryen's book-knowledge coupled with Danny's on-field experience brings fans the best of both worlds as their differences make for a smart, quick, and challenging conversation. Be prepared to think, as they challenge what's comfortable with an honest, raw and real discussion. They're not afraid to go "there" and to take their listeners along for the ride. This is Russillo & Kanell.
The Drive with Mark Panichelli
(Weekdays 4PM – 6PM)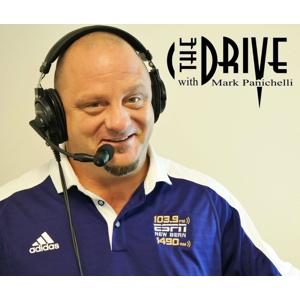 Tune in weekdays 4 – 6 PM for Eastern North Carolina's Sports Show on your ride home. The Drive with Mark Panichelli is a blend of national, regional and local SportsTalk featuring guests from the media, the athletes who play and those who coach them. Mark Panichelli is a East North Carolina native with over a decade of Sportsradio journalism experience, including interviews with national sports icons from MLB, the NFL, NBA, NHL, the ACC as well as NASCAR and Formula One racing. Mark's regularly scheduled guests include local sports figures like ECU's Scottie Montgomery and Jeff Lebo as well as Newschannel TV 12's Brian North and the local newspapers' sportswriters. Throw in some humor, pop culture and a look at the region's High School sports and you'll get everything you need on The Drive home.
Listen Live Links Below
(certain network programming may be unavailable for us to stream by contractural agreement)
ESPN Radio New Bern: