UNSPORTSMANLIKE
(Weekdays 6AM – 10AM)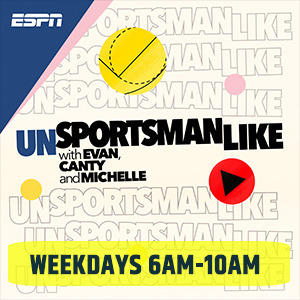 ESPN's marquee morning show timeslot will be led by the trio of Chris Canty, Evan Cohen and Michelle Smallmon.
o    Canty: A Super Bowl champion and 11-year NFL pro, Canty originally joined ESPN on 98.7 FM in New York. He moved to the national network lineup in 2020 and most recently was a key part of the afternoon lineup from 3-7 p.m.
o    Cohen: A 20+ year radio industry veteran, on air and behind the scenes with experience across a multitude of national and local stations, including a part-time host role with ESPN earlier in his career. He most recently hosted the SiriusXM Mad Dog Sports Radio morning show since 2011 in addition to SiriusXM's NBA Radio, weekly.
o    Smallmon: A former ESPN radio producer on both the local and national level, Smallmon eventually left producing to go back to St. Louis as an on-air voice in 2018, co-hosting a popular morning show before returning to national ESPN Radio in 2022 as a weekend and fill-in.
#Greeny
(Weekdays 10AM – 12PM)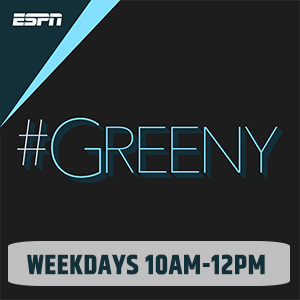 Signature ESPN host Mike Greenberg will continue to lead the 10 a.m.-12 p.m. window, expanding on his personal takes from Get Up and welcoming a variety of contributors and insiders to share their perspective with listeners as well.
o    Greenberg: Host of two signature, multiplatform daily shows – Greeny on ESPN Radio (since 2020) and Get Up on ESPN (since 2018) – the National Association of Broadcasters Hall of Famer has been a fixture at ESPN since he joined in September 1996.
Carlin vs Joe
(Weekdays 12PM – 3PM)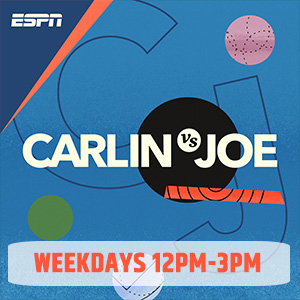 The midday window kicks off with a three-hour block led by Chris Carlin and Joe Fortenbaugh, two hosts who most recently led afternoon drive and evening shows with the national network, respectively.
o    Carlin: The Emmy-winning host has been with ESPN since 2019, first in New York and most recently co-hosting the national 3-7 p.m. timeslot. Prior to joining, he had already been a fixture on the New York and Philadelphia sports TV and radio scenes both as a producer and an on-air host for many years.
o    Fortenbaugh: The radio host and sports betting analyst joined ESPN fulltime in August 2020. Most recently, Fortenbaugh who has made many appearances across ESPN Radio and ESPN television, co-hosted the 7-9 p.m. window. Prior to ESPN, he was a local radio show host in San Francisco.
The Bryan Hanks Show
(Weekdays 3PM – 5PM)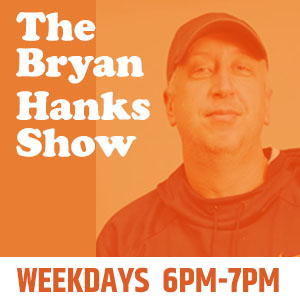 The Bryan Hanks Show featuring Jon Dawson (and Jonathan Massey)" airs on 960-AM in Kinston, 960TheBull.com online & the 960 The Bull app daily at 7 a.m. & 3 p.m. It also airs on the suite of 252ESPN.com stations in New Bern and Greenville (107.5-FM).
The Drive with Mark Panichelli
(Weekdays 5PM)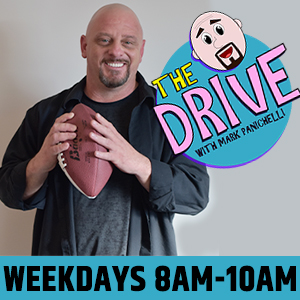 It's East Carolina's sports show on your ride home! The Drive with Mark Panichelli is a blend of national, regional and local sports talk featuring guests from the media, the athletes who play, and those who coach them. Mark Panichelli is the old vet, an East North Carolina native with over a decade of sports radio and journalism experience, including interviews with national sports icons from MLB, the NFL, NBA, NHL, the ACC, as well as NASCAR and Formula One racing. Regularly scheduled guests include local sports figures like ECU's Mike Houston, NC State's Dave Doeren, and local ACC personalities, as well as News Channel 12's Brian North and Ariel Epstein, but you never know who may stop by! Throw in some humor, pop culture, and a look into the region's prep sports and you'll get everything you need on The Drive home.
Freddie & Harry
(Weekdays 6PM – 7PM)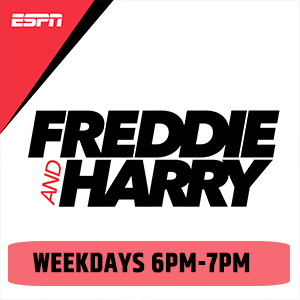 The afternoon drive window features veteran ESPN Radio host Freddie Coleman moving to 3-7 p.m. alongside Harry Douglas.
o    Coleman: A signature voice on ESPN Radio's lineup since he joined in 2004, Coleman has led a variety of shows across ESPN Radio, most recently co-hosting the 9 p.m.-1 a.m. show since 2016.
o    Douglas: A former 10-year NFL pro, Douglas is a contributor across various ESPN studio shows, digital football shows, an analyst on ESPN's XFL coverage and a mainstay across the radio network, most recently co-hosting the 12-3 p.m. timeslot since January.
Amber & Ian
(Weekdays 7PM – 10PM)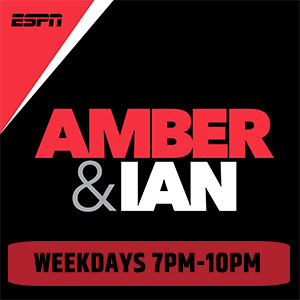 Amber Wilson is joined by Ian Fitzsimmons for an expanded three-hour window to begin ESPN Radio's evening lineup
o    Wilson: An ESPN radio host and practicing attorney, Wilson will continue to lead ESPN's evening window, which she has done since January after joining ESPN in 2019. Prior to ESPN, she was a morning and midday show host in Miami.
o    Fitzsimmons: Joined ESPN in 2009 and is a sideline analyst and reporter for ESPN Radio covering college football and NFL games, ESPN's XFL coverage as well as the co-host of ESPN Radio's late-night show since 2016.
GameNight
(Weekdays 10PM – 1AM)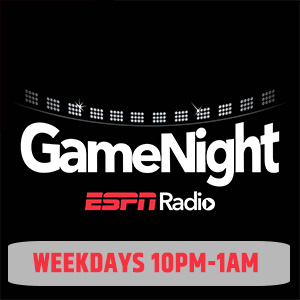 The new ESPN Radio lineup culminates from 10 p.m. to 1 a.m. with host Q Myers making his full-time, national ESPN Radio debut with GameNight's return to weekdays alongside a rotating team of co-hosts from across the country.
o    Myers: An audio industry expert, Myers began as a popular radio DJ, before joining ESPN Radio in Central Texas in 2012. From there, his expansive resume as host and program director continued to grow, most recently with Lotus Broadcasting. Myers began contributing to ESPN in December 2021.
SportsCenter All Night
(Weekdays 1AM – 6AM)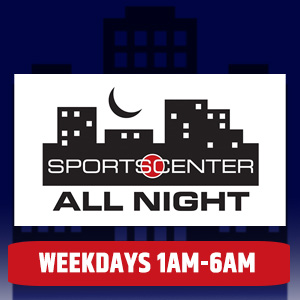 SportsCenter AllNight, led by Jay Reynolds, Jim Basquil and a variety of other hosts, continues to wrap up the night of sports and set the table for the following day.
Listen Live Links Below
(certain network programming may be unavailable for us to stream by contractural agreement)
ESPN Radio Greenville: