History – 252 Radio was founded December of 2006, as one station – RadioFree ENC/WNOS – now known as NewsTalk 103.9FM/1450AM. NewsTalk is dedicated to providing the news you need when you need it. Later that same year, an ESPN affiliation was granted and ESPN Sports Radio 1490 AM was launched. In January of 2011, ESPN launched 104.3 FM to cement its radio sports brand. In June 2014, WECU 1570 AM in Greenville was added as an ESPN affiliate to round out Eastern Carolina's sports coverage. ESPN Sports broadcasts games from professional leagues like NFL, NBA, MLB and college athletics via the ACC and NCAA.
Philosophy – 252 Radio reaches the heart of the region with exposure to over 800,000 people in New Bern, Greenville and the surrounding areas. As a committed community partner, we dedicate a portion of broadcasting resources to New Bern High School football with shows such as The Drive with Mark Panichelli and The New Bern Coaches Show.  Our goal is to provide the very best radio experience to both listeners and advertisers. 252 Radio stations support local business goals, enhance listener enjoyment and sell effective advertising.
WNOS Coverage Map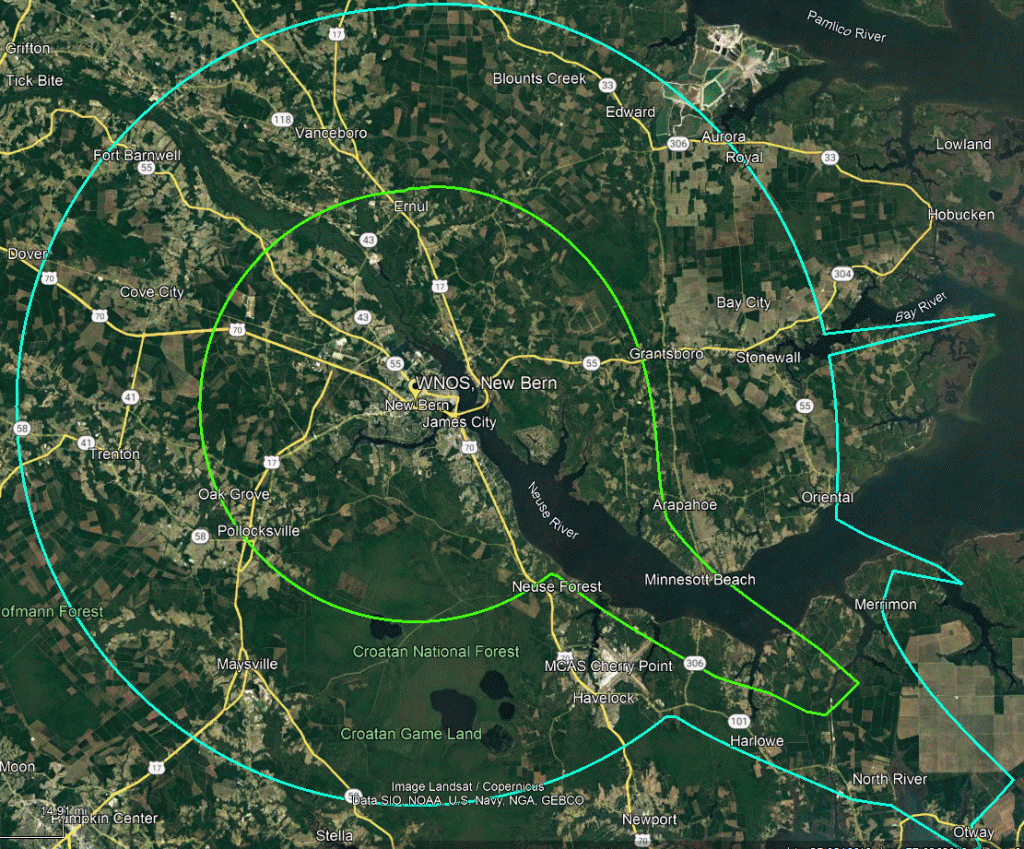 New Bern's ESPN Sports Talk and NewsTalk stations broadcast to more than 125,000 people blanketing over 1400 square miles with their primary signals covering more than 100,000 Craven County residents. (2010 US Census Database)
Greenville ESPN Sports Talk –  The Greater Greenville market reaches a total population of over 600,000 mirroring perfectly the ideal demographics associated with an ESPN affiliate. Securing the call letters of WECU ensures our commitment to the area and the local affinity for ECU, blanketing over 2300 square miles with its primary signal covering more than 165,000 Pitt County residents. (2010 US Census Database)
For sales please contact:
Leslie Olivares
Sales Manager
Cell: 252-6178492
Office:252-633-1490
Leslie@252radio.com

Living in New Bern for almost a decade. Leslie has an affinity for building relationships with her clients that extend beyond their business and advertising needs…she wants to know them! Her goal is to always find a marketing campaign that matches every client, no matter how big or small, or how unique.
Leslie has grown up with sports. Dedicating her Sunday's as a kid to watching her dad play baseball and now once a week she watches her dad and siblings play slow pitch. Even though her passion is music and acting Leslie knows how to be a die hard fan…of who ever is winning.
Give her a call today and let her begin building your business's relationship with 252 Radio!
For any other comments or suggestions for our radio stations, please contact:
Office Number: 252-633-1490
Email: info@252radio.com
Mailing Address: 1202 Pollock St. New Bern, NC 28560